Hi ... I'm often ask what it is that I like about having sex with Black guys. To answer that let me start at the beginning.
I was still a teenager the very first time I saw a Black guy naked and I liked what I saw .. a LOT. I'd never been naked with a Black boy before and I found the color of his skin against mine incredibly arousing. I was also excited by the fact that it was still 'taboo' for a White girl and a Black boy to be together. The thing that most excited me though was his cock. It was the biggest cock I'd ever seen and it looked just so beautiful .. I wanted it so much .. deep inside me!!
I was hooked on Black guys after that first interracial experience, and since then I have fucked more Black guys than I can remember. All a Black guy has to do is look at me suggestively and I start to get wet. I've lost count how many times a Black guy has started to talk to me and I've ended up fucking him. I just can't help myself. And it doesn't matter if it's a single Black guy or a group.
I've noticed that Black guys have this 6th sense for knowing that I will fuck them. Even before we start talking I can tell they know I will happily spread my legs for them. Some have told me they knew by the way I looked at them, while others couldn't explain how they knew .. they just knew.
When I'm with a Black guy .. or more so, a group of Black guys .. I give myself over to them completely. I always have. Whatever they want to do with me, or to me, is fine by me. I've let so many guys fuck my ass and some of those cocks have been HUGE. I let them double fuck my pussy (two cocks together in my pussy). I lick their assholes. Take their cum in my pussy, ass or anywhere they want to give it to me. I truly become their Black Cock Slut .. and I just love it!!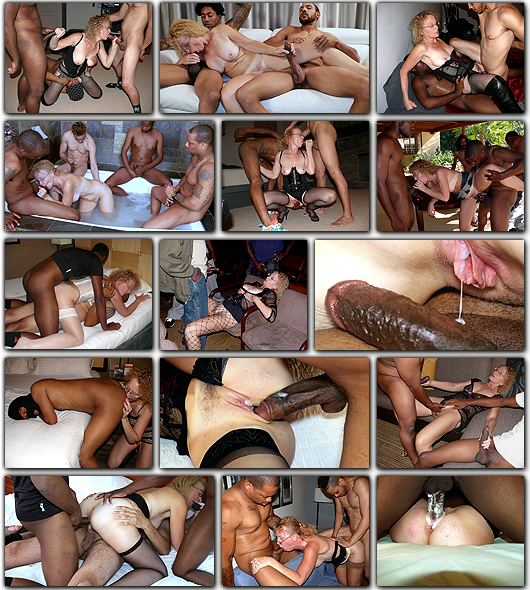 The Members Area
What will I find in the Members Area?
Thousands of videos and photos showing you every aspect of my sex life over the past 20+ years. Most videos are 4k or HD and most photos are high resolution. There are gangbangs, orgies, threesomes, 1 on 1 and lots more. In most scenes I am joined by other swingers and also some well known pornstars. In addition to that you will find stories (actual experiences) written by me and my husband, my diary, videos and photos from other swingers and a whole lot more!!
Do you update regularly?
Yes, every week we add a new scene .. plus .. a new creampie clip and a diary addition. We also add interviews with some of the girls who join us but not every week.
Are the videos downloadable?
Yes. You can download all our videos.
Do you offer Zip files for Photosets?
Yes. All photosets are available for download in zip form as well as individually.
Is the entire archive of videos available, or do you rotate them?
Everything is available to members. Nothing is recycled. Everything, since the site started in January 1999, stays on the site.
Is there a daily download limit?
No. You can download, or stream, as much as you want.
Technical
What video formats are available?
All new scenes are 4k and MP4 format. They are in 5 different resolutions from Full 4K to a much smaller version for mobile devices. All non 4K video are offered in MP4 format and WMV format. In various resolutions.
My login doesn't work!
Login problems can occur for many different reasons. Some of the most common reasons are:
You mistyped your username, password. Your username AND password are both case sensitive, so "joesmith" is not the same as "JoeSmith". Some mobile browsers will automatically capitalize the first letter, so please be sure that you check before trying again. Please refer to your original signup email receipt to double check the username and password you selected when you signed up. Often times, a user uses a capital letter when signing up, but forgets when trying to login, or vice versa.


You forgot your login information. We understand that happens. You can retrieve your login information automatically from CCBill's Support Page. If you still cannot locate your membership, please email us at .. cathy@cathyscraving.com


The next issue that may block you from accessing the Member's Area is when a username and password has been shared. If a username and password has been shared with anyone, our security systems catch it and flag the account for abuse. Your account will be suspended for a few hours. If you continually attempt to log in while temporarily suspended, your account gets locked for 24 hours. Don't keep trying to log in. If you didn't share your password, email us at .. cathy@cathyscraving.com immediately!


You entered an incorrect login too many times, so you are now blocked. If this happens, please contact us by opening a support ticket at the top of this page.


Your membership has expired. This can happen if you cancel your account and your membership expires, or if your card is declined on a rebill attempt. Please contact us by opening a support ticket, and we can verify your account status.
Billing
What will show on my credit card statement if I sign up?
To protect your privacy, any charges will discreetly appear as CCBILL.com on your credit card statement.
How do I cancel?
If you signed up via CCBill, please click here to cancel: CCBill Support System
I forgot my password and/or my username?
If you've forgotten your password and/or username, please email us at .. cathy@cathyscraving.com
How can I check if my account has been cancelled?
Upon successful cancellation of an account, you will be sent a confirmation email to the email address used during sign-up. If you can't find this email in your inbox, try checking your email account's spam folder. If you haven't received the confirmation email or you don't have access to the email address on file, email us at .. cathy@cathyscraving.com .. and we'll verify the cancelation.
About Cathy
Does it hurt when you're fucking a 10+" cock?
I've been asked this many times and while it doesn't hurt me I know other women do get hurt by big cocks. I guess it has something to do with your anatomy because for me there has never been any pain, only pleasure. Oh sure after a really long, and hard, session my pussy and butt will be sore the next day but it's more a 'pleasant' sore than a painful one.

The first really big cock I had was 9 1/2" in length and a huge 8" around. When I first saw it I wondered if I was going to be able to take it and if it would hurt. It was so much thicker than any cock I'd had before. I was so turned on by it though that there was no way I was going to stop.

At the time I was truly amazed at just how big that cock was. Of course I'd heard stories about guys with really big cocks but I'd always thought they'd been exaggerated, that is until I meet Sean. Even limp his cock was big but boy the first time I played with him and felt him grow, and grow, and grow it was like; WOW!!! Fully erect there was no way I could get my hand around it and trying to suck him was just as difficult. I did manage to get his big mushroom shaped knob fully into my mouth but it really made me wonder if I could get him into my pussy. I needn't have worried!

Although it took a bit of effort I managed to get him inside me (I was on top) and it was just the most incredible feeling. I came strongly just having him inside me, stretching me, and came several more times as we fucked. It's still one of the most 'memorable' experiences I've had and it truly did whet my appetite for more big Black cocks.
What does your husband think of you fucking Black guys?
Before I answer this question I first want to say I get plenty of sex at home and our sex life is better than most. Neither of us have ever "cheated" on the other and we are always together whenever we enjoy sexual encounters with others (I truly don't have any interest in having sex with someone unless my husband is there). Whenever we involve someone else it is always something we both want and not because we are tired or bored with each other. And we do so as an extension of our sex life not a replacement. We have also found that this has brought us closer together as a couple (contrary to what a lot of people may think).

As far as what my husband thinks well I know for certain he really 'gets off' on seeing, and hearing, me fucking Black guys. He has told me many times that the sight, and sound, of me riding a Black guys cock turns him on like crazy. And knowing this allows me to really let go when I am fucking another guy(s).
Do you really like having two cocks together in your pussy?
I don't just like it I absolutely LOVE it!!

Having a cock in my butt and one in my pussy is great but I gotta tell you when they both slip into my pussy it just takes the pleasure to a whole new level. The feeling of two stiff cocks sliding in and out of your pussy in perfect rhythm is just the most intensely satisfying feeling. I always have multiple orgasms when I have two cocks fucking my pussy and they are always incredibly intense.

I tend to get so carried away when getting fucked this way that I don't want the guys to stop. As I'm cumming I keep calling out to them to fuck me. Unfortunately most guys find it incredibly hard to hold back their load when fucking this way so I usually don't get as much of it as I'd like. And more often than not once one guy starts to cum the other isn't far behind. Oh don't get my wrong, I just love having them cum off inside me but usually I wouldn't have minded a little more fucking before they did!
Where do you most like to have a man cum?
I just love being fucked by a man and having him cum in my pussy. There is just something so intensely satisfying about it. To be fucked hard and urgently by a man and to hear and sense him getting ready to orgasm really does it for me. 99 times out of a 100 I'll cum when he does and the orgasm I have is quite different to other orgasms. I don't know what it is but I do know I love it. And the times when I have two guys cum together in my pussy is hard to explain. It's just like doubling what it is like when there is one guy. I guess that may be why - when I'm being fucked by two guys in my pussy - that I keep asking them for more and more. I want them to both cum in me.

Also .. something my husband loves (and he's not the only one!) is fucking me after another man has cum in me. He really enjoys fucking me when my pussy is full of one or more guys cum and he never lasts long before he cums in me as well.>